Bio-Lift Collagen Cream
A 24 hour anti age cream with dermo smoothing properties featuring Antiwrinkle Hexapeptide, Marine Collagen and a combination of natural ingredients to help improve and maintain skin elasticity, moisture and tone. Protects the skin against the elements, prevents and reduces signs of aging acting against all causes. A velvet soft feeling cream that re energizes and rejuvenates the skin.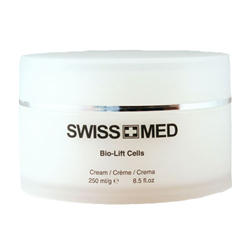 Active Ingredients
Anti wrinkle Hexapeptide – dermo smoothing, toning, smoothes fine lines and wrinkles by decontracting the skin
Lactic Acid Ester –improves cell regeneration & skin texture, moisturizing
 Sodium Hyaluronate-  moisturizing replaces lost moisture, increases barrier function of the skin
preventing moisture loss
film forming, elasticizing
 Carrageenan – regenerating, moisturizing
 Apricot Oil – nourishing, alleviates dry skin
 Imperata cylindrical- an intense long lasting moisturizer
 Saxifrage- anti free radical, healing
 Bisabolol anti inflammatory, soothing
  Tocopherol [Vitamin E], anti oxidant, prevents free radicals, anti aging
 UVA &UVB SPF 12- City Filters block damaging UV light
Orange Flower Distillate Water-  a hydrosol to naturally fragrance with de-stressing properties
Characteristics:
An oil in water emulsion
Mineral oil free
Fragrance Free
Colorant Free
How to Use:
Apply to the face, neck and decolte over the Swissmed serums. Used in the professional treatment as well at home morning and evening. May be used under make up.
Packaging
250 ml Professional use jar
50 ml Retail use jar in box
3 ml sample sachet