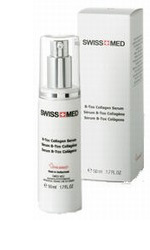 Swiss + med

As a pioneer and developer of the esthetics and spa industry since 1970 Intercosmetics is a company you can trust for offering Swissmed Skincare products.
Swiss Med is a unique anti-aging skin care treatment from Switzerland.
It uses anti wrinkle hexapeptide, to decontract the skin, thereby smoothing out fine lines & wrinkles. Powerful anti-oxidants including Vitamins C, E and A prevent & reduce damage caused by environmental exposure, ingredients such as Marine Collagen and Hyaluronic Acid improve the tone, elasticity & moisture of the skin.
Legendary Swiss Made -Exclusive - Quality-Performance-Experience
Swiss Med cosmetics are genuine made in Switzerland a country legendary for their experience in research and manufacturing of high quality cosmetics. All products are manufactured conforming to the highest standards of cosmetic and pharmaceutical norms
Mineral Oil Free
Paraben Free except for cosmetics containing Hexapeptide]
Fragrance Free
No Animal Extracts
No Colorants
Alcohol Free Creams/Serums
Clinically Tested
Non Comedogenic
No Known Irritants
NCI List of Ingredients
Sealed Packaging
Bar Coded